Adjustable Toilet Frame – Steel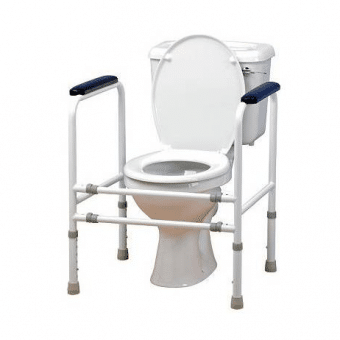 If you need a little extra support to bend down to the toilet and little a bit more to help you get back up, then this toilet frame is just for you! The frame is sturdy, width and height-adjustable. The frame will, therefore, fit into a variety of spaces. The handgrips are padded for extra support and comfort. Don't let a basic task like using the toilet bother you again, make the switch today to regain your independence! Available in steel. Read More
Over Toilet Aid
Anybody that has experienced problems with their mobility understands just how dependent you can become on others to assist you in all aspects of your life. This is a particularly challenging complication to face that can put a strain on those experiencing it, both mentally and physically, but it also requires adjustments to the way we live that can require giving up some of the freedoms we take for granted.
Over Toilet Aid
At Aged Care Store, we supply over toilet aid products that are designed to allow elderly citizens and those that require assistance to maintain their independence and sense of dignity when they need to use their restroom facilities.
Nobody likes to think about needing help to sit down on or stand up from the toilet, and so we believe that where appropriate our living aids can make a real difference and deliver more than just physical assistance, but feed into a person's sense of self.
Taking the Needs of Those in Care into Consideration
We are an Australian company, owned and operated, and our goal is to make the simple things in life easy again for those that are experiencing difficulties. It's not just the elderly in our various communities that can find themselves needing assistance, though. Those that are involved in accidents, be it in the workplace or on their own time, can be challenged in terms of their ability to navigate their familiar surroundings like they used to.
As such, we are here to make sure that if you are in that position, or find yourself in that position, products and solutions are available at prices that will beat any physical shop and will prove highly competitive against any other online retailer.
The bathroom is an intimate space and somewhere that we all want to retain our independence for as long as we possibly can. Having a robust rail surrounding the toilet that can be adjusted to suit the height and frame of any person can make a huge difference and affords both the elderly person and their carer space.
Naturally, those that struggle with their hands need a little more care and attention. As such, we can include grips with our over toilet aid that will make it that bit easier for anybody with sensitive or weakened hands to get a hold of the steel frame so that they can confidently sit or rise from the toilet.
Fast Shipping and Friendly Support When You Need It
The good news for those that require assistive technology or products that are designed to bring comfort to a living space that must change to cater to the needs of a person in care is that here at Aged Care Store, we ship within 24 hours of receiving your order, and do our utmost to ensure that you have your goods within 4 days.
We want you to have products that will make your life easier once again. So that you can maintain your mental wellbeing as well as your physical confidence. So our customer service team are ready to chat with you if you need any assistance with regards to determining which products might work best for you, whether that's an over toilet aid or a pair of arthritis gloves.
At the Aged Care Store, we are here for you. We look forward to sending a little comfort your way in the not too distant future.
Aged Care Store supplies a range of different products to enhance your everyday life. From Dentons pillows, kettle tipper & caring cutlery to furniture, IMAK gloves & socks and much more.
Specifications
Supplied as a flat pack;
Height adjustable from 625 to 788mm;
Width adjustable from 510 to 560mm;
Depth 495mm;
Max user Weight 165kg; and
Made from Steel.
We also know online shopping can be scary and you might not trust the process. But rest assured we have a very secure website. See that little lock in the address bar, that's proof that you're visiting a secure website!  If you are worried about completing the purchase online then just call us on 1300 410 702 and we can process your order over the phone – easy peasy!
Order Your Toilet Frame Today & Regain Your Independence Tomorrow!
We Stand by Our Products
Easy Customer Service
---
Call our friendly Customer Service team on 1300 410 702.
Fast Delivery
---
Your order will be shipped from our Sydney warehouse and delivered with lightening speed!
No Fuss Returns
---
Don't like it?  Send it back!  Basic T&C's apply.
100% Secure Payment Options
---
Pay using PayPal, MasterCard, Visa or by phone.
TRUSTED AND RAVED ABOUT BY 1000'S OF OUR CUSTOMERS...
You'll love it too...
Aged Care Store Disclaimer
The Aged Care Store recommends that you talk to your Medical Practitioner or Case Worker before purchasing any daily living aid products to ascertain whether this product is suitable for you. If you start to feel pain or discomfort, you should stop immediately and also seek Medical Help. We care for you, so please use it in accordance with the provided instructions.