Bed Table
This Bed Table has an epoxy coated frame with a vinyl top. It also has recessed edges to ensure that nothing slips off. In addition, it has 50 mm twin castor wheels for easy maneuverability to the bed or chair. Easy for people with poor strength to move from position to position. Easy to clean. The height of the tabletop is also adjustable.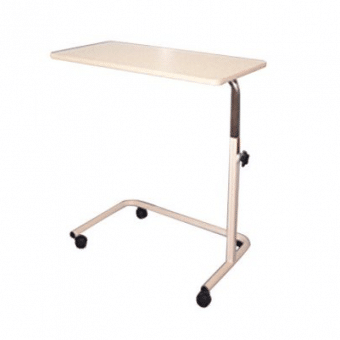 Suitable for people who are confined to a bed or prefer the comfort of their lounge chair when using a laptop or reading.
Specifications:
Length: 800mm;
Overall Width: 400mm;
Minimum Height: 710mm;
Maximum Height: 1050mm;
Height of Castor Wheels: 50mm;
maximum Load 10kg.
Are you looking to buy an adjustable table in Australia?
Maybe we can help! At Aged Care Store, we know that in your old age you can need help with even the smallest things. So, we want to make your day as easy as possible. Our adjustable overbed tables might just be what you're looking for to add to the bedroom.
What are they like?
Overbed tables are the perfect addition to anyone who's bedbound, whether it's for a month, a year, or the foreseeable future. Or maybe you just enjoy sitting comfortably when using a laptop or reading. With a vinyl top and recessed edges, nothing is going to slip off of one of these tables.
Days Overbed Tables have 50mm twin castor wheels to make it easy to move around the room, even for those with poor strength. You can adjust the tables to be as high or as low as you need them, so even if you've added furniture raisers, it can still be the right height. The maximum height the Days Overbed Table goes is 1050mm and the lowest is 710mm so no matter where you're sat, you can get it in the right place.
What are the benefits of an over bed table?
When you think of an overbed table in Australia, you might think of hospital visits, but overbed tables are really useful in the home as well.
It reduces the need to get out of bed if you're just out of surgery or injured. You can keep everything you need right there for you, ensuring there are no unnecessary movement around the house.
It could prevent an elderly person from falling out of bed, which happens more often that you hear about. If everything they need is right next to them, they won't need to get up and won't fall.
It keeps you positive when you're on bedrest. All too often it makes you bored or annoyed that you can't leave. However, when you're being spoilt with everything you need, you can have all the snacks you want laid out on the table along with books and other things to do.
You can eat from the comfort of your own bed without worrying about crumbs and food going all under the covers.
You can stand your book or magazine on it without having to hold it up (especially if you have one of our book stands which keeps them open while you're reading).
What we aim to do
We want everyone living their best life, even when it throws them a curveball later in life. We love helping you live independently and giving your loved ones a peace of mind leaving you in the comfort of your home. With our products, they can be sure you'll be safe and be able to do all the things you used to do with ease. We believe that your safety shouldn't cost the earth, so we work within Australia and Internationally to provide reduced and affordable prices for high-quality products. You should never have to compromise on your safety.
So, if you're ready to buy an overbed table in Australia, give us a call on 1300 410 702 for a chat about your needs, and have a look around and see if there's anything else you didn't think you'd need.
We also know online shopping can be scary and you might not trust the process, but rest assured we have a very secure website. See that little lock in the address bar, that's proof that you're visiting a secure website!  If you are worried about completing the purchase online then just call us on 1300 410 702 and we can process your order over the phone – easy peasy!
Order Your Bed Table Today & Regain Your Independence!
We Stand by Our Products
Easy Customer Service
---
Call our friendly Customer Service team on 1300 410 702.
Fast Delivery
---
Your order will be shipped from our Sydney warehouse and delivered with lightening speed!
No Fuss Returns
---
Don't like it?  Send it back!  Basic T&C's apply.
100% Secure Payment Options
---
Pay using PayPal, MasterCard, Visa or by phone.
TRUSTED AND RAVED ABOUT BY 1000'S OF OUR CUSTOMERS...
You'll love it too...