Non-Slip Shower Mat
Non-slip shower mat, created to offer extra safety. Offering maximum peace of mind while bathing or showering. It fits in most shower alcoves and baths and features suction cups on the base to grip the surface of the floor and the upper surface also feature textures to prevent slipping of the user. With the raised ridges and unique modern design, the mat will let you stand on it, even on a wet surface, without having to worry about slipping.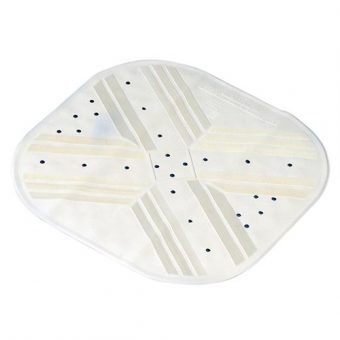 Made using some of the best medically approved materials that have been tested to make sure they are ultimately safe to use. Features high-grade medical rubber content as well as additional cups. It is large enough to comfortably accommodate a bathing experience. In addition, the mat is washable at a 40 degree by machine.
Shower Mat – Specifications
Machine washable at 40 degrees;
Dimension 555mm x 555mm.
Order Your Shower Mat Today & Regain Your Independence Tomorrow!
We Stand by Our Products
Easy Customer Service
---
Call our friendly Customer Service team on 1300 410 702.
Fast Delivery
---
Your order will be shipped from our Sydney warehouse and delivered with lightening speed!
No Fuss Returns
---
Don't like it?  Send it back!  Basic T&C's apply.
100% Secure Payment Options
---
Pay using PayPal, MasterCard, Visa or by phone.
TRUSTED AND RAVED ABOUT BY 1000'S OF OUR CUSTOMERS...
You'll love it too...
Non-slip shower mats for the elderly are a necessity
Guess what… ageing is a process that takes place over a long period of time. People don't just wake up one morning and decide that they're going to be feeble from that moment on.
If you're getting on in years but you still feel perfectly fine, that doesn't mean you don't need to have accessories in your home that help to ensure your safety. One of the most essential accessories you should have is non-slip flooring.
Even young people can experience falls in the shower, so it's not only the elderly who should have these non-slip shower mats. We've probably all experienced a few very close calls in our time due to a careless moment in the bathroom.
The difference is that young people don't always appreciate the danger as much as older people are likely to do. As we get older, injuries take longer to heal, and they seem to be more painful. Besides, we don't want to be languishing in bed recovering from an injury when we ought to be out making the most of the time we have left.
The bathroom is a scary place to have a fall
Think about it. Everywhere you look in a bathroom, there are hard surfaces. There are things sticking out of the wall that could injure you. Plus it's the one place in the house where people feel very uncomfortable to intrude. If you're lying there unable to call for help, it might be a very long time before anyone finds you.
This isn't meant to frighten you. But slips and falls in the bathroom are preventable, and non-slip mats will definitely help to make your bathroom safer. Since it's so easy, inexpensive, and beneficial to upgrade your safety in this way, why wouldn't you?
A quality non-slip shower mat you can rely on
The Sure Tread shower mat sold by the Aged Care Store is a simple but effective solution to improving safety in the bathroom. For the best results, especially if your bathroom has a traditional tub, we'd recommend also considering the installation of grab rails. You may also want to consider a shower seat or bath board for even more enhanced bathroom safety.
If it sounds like we're a bit obsessed with bathroom safety, there's a good reason for that. It is well known that the bathroom is one of the top two places where people are injured at home. The other one is in the kitchen. Do you know what these two rooms have in common? That's right – wet floors!
This non-slip flooring is designed as a heavy-duty safety device. It's much better and thicker than a cheap low-quality mat, so it won't rip and it's easier to keep clean.
More ways to improve safety in the bathroom
We'll finish up with a few simple tips anyone can follow to enjoy a safer bathroom experience.
Use a shower brush ("back scrubber") to wash your feet and legs instead of bending down. This can help you avoid a back injury and also reduces the chances you might suffer a dizzy spell.
Use liquid soap instead of cake soap. It's a little more expensive but it's a lot safer. If you drop cake soap, it will make the floor slippery and it can take quite a bit of effort to remove the residue. Liquid soap simply rinses away if you spill some. Liquid soap is also a more hygienic choice because it doesn't go bad as quickly as cake soap.
Wear a waterproof emergency alarm device around your neck while you're showering or bathing (or actually as much of the time as you can, anywhere). That way, if you do have an accident, you can summon help much more easily.
Shop Australia's #1 supplier of quality aged care bathroom products & more.
We also know online shopping can be scary and you might not trust the process, but rest assured we have a very secure website. See that little lock in the address bar, that's proof that you're visiting a secure website!If you are worried about completing the purchase online then just call us on 1300 410 702 and we can process your order over the phone – easy peasy!