Super Grip Cutlery
Regardless of your age, sometimes we need a little extra help. If your hands are weak or you can't close your hands properly then feeding yourself will be difficult.
The Super Cutlery has a ribbed handle to help secure your grip. Additionally, the handle is also bigger, which is perfect for anyone who struggles with actually grabbing and holding smaller objects.
Now, there is no need to worry about you or your loved one losing independence. Small changes today, will make a big difference today.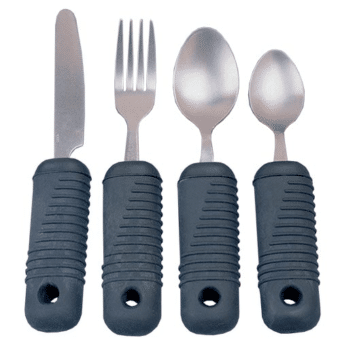 The Cutlery set contains a range of utensils, including a stainless steel knife with a curved rocker blade to assist the user in cutting things in an easy manner. The comfortable rubber handles provide a better grip. Therefore they are beneficial for people having weak or limited wrist, arm as well as muscle movements.
The Super Grip Cutlery is available in a set only – the super grip knife, fork, spoon, and teaspoon. In addition, these utensils vary a lot in terms of weight and length. With the weights ranging between 45 grams and 55 grams. This popular range of Super Grip Cutlery is available only as a set. Their lightness makes them usable by those who cannot cope with the weight of the standard built-up handles.
Our Super Grip Cutlery Is Practical For A Number of Different Purposes
The Super Grip Utensils, sealed into built-up ribbed handles, making them easy to grip. The handle has a diameter of 38mm and a length of 102mm. Stainless steel utensils with closed-cell foam handles. The handle is comfortable to hold and the cutlery is washable. The Super Grip Cutlery Utensils is suitable for both dishwasher and normal washing. However, when it comes to using a dishwasher, the water should not be more than 52 Degrees Celsius. The cutlery is latex-free and safe and healthy to be used for eating.
Buy Our Super Grip Cutlery Online in Australia
We also know online shopping can be scary and you might not trust the process, but rest assured we have a very secure website. See that little lock in the address bar, that's proof that you're visiting a secure website!  If you are worried about completing the purchase online then just call us on 1300 410 702 and we can process your order over the phone – easy peasy!
Order Your Super Grip Cutlery Today & Regain Your Independence Tomorrow!
We Stand by Our Products
Easy Customer Service
---
Call our friendly Customer Service team on 1300 410 702.
Fast Delivery
---
Your order will be shipped from our Sydney warehouse and delivered with lightening speed!
No Fuss Returns
---
Don't like it?  Send it back!  Basic T&C's apply.
100% Secure Payment Options
---
Pay using PayPal, MasterCard, Visa or by phone.
TRUSTED AND RAVED ABOUT BY 1000'S OF OUR CUSTOMERS...
You'll love it too...