Bed Pole – The Extra Help a Carer Needs!
No one wants to be stuck in bed! But when you're relying on a carer to help you in and out, sometimes the carer needs a little extra help too! Our Bed Pole is the extra help you and your carer need!
Our Bed Pole is a free-standing patient helper. Designed with both patient and carer in mind! It takes away some of the heavy lifting that a carer does! It also allows the patient to regain some independence by pulling themselves up to seated a position. It's lightweight, sturdy, and extremely easy to assemble 
How To Use the Bed Pole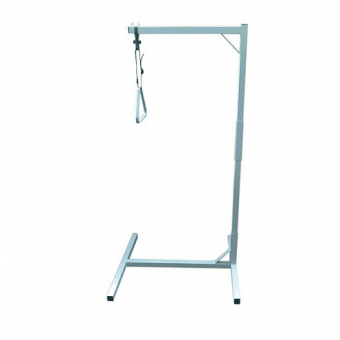 Place the base of the bed pole under the bed base, this will provide stable support when lifting a person to a seated position. Use the Bed Pole with a conventional bed or hospital bed. 
The pole has an adjustable handle, with a webbed strap. Reinforced stitching on the strapping, the frame also has strap stoppers, to prevent the straps from sliding off the frame. The patient can grab the handle with both hands and pull straight down rising to a seated position. 
The Freestanding Pole is not designed to support the total body weight of an individual. It is to be used for assistance only. The total maximum user weight is 135kg. 
Bed Pole Specifications:
Overall height 1680mm;
Mold Handle height adjustment 1090mm to 1320mm;
Footprint: 760mm x 850mm;
Net Weight 13kg; also
Maximum User Weight 135kgs.
We also know online shopping can be scary and you might not trust the process, but rest assured we have a very secure website. See that little lock in the address bar, that's proof that you're visiting a secure website!  If you are worried about completing the purchase online then just call us on 1300 410 702 and we can process your order over the phone – easy peasy! 
Order Your Bed Pole Today & Regain Your Independence Tomorrow!
We Stand by Our Products
Easy Customer Service
---
Call our friendly Customer Service team on 1300 410 702.
Fast Delivery
---
Your order will be shipped from our Sydney warehouse and delivered with lightening speed!
No Fuss Returns
---
Don't like it?  Send it back!  Basic T&C's apply.
100% Secure Payment Options
---
Pay using PayPal, MasterCard, Visa or by phone.
TRUSTED AND RAVED ABOUT BY 1000'S OF OUR CUSTOMERS...
You'll love it too...