Heavy Duty Rollator
Let's talk about how a Rollator can get you moving again! Do you know what's sucky about growing old? It's not having the stability that you need to maintain your independence! What fun is life if you can't get out and enjoy the sunshine or catch up with your loved ones. Check out this Heavy Duty Rollator's features.
This four-wheeled Rollator is complete with ergonomic handles, padded backrest, height adjustable handles and seat, lockable brakes and is easy to fold and store. Giving you all the stability your need to get moving again and back out into the sunshine!
The Ergonomic, contoured, handgrips, make it easy for anyone to grip.
Custom Fit Rollator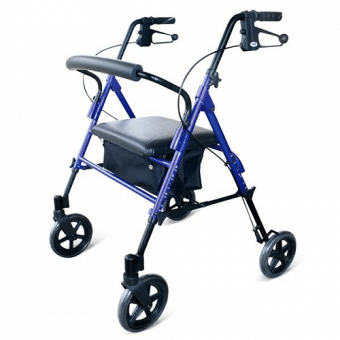 Whether you are short or tall this four-wheeled Rollator can be adjusted to suit your height. The handle height can be adjusted, with five different settings, at 25mm increments, so that you can get a custom fit. If you feel like you need further customization you can also adjust the height of the seat with a height range of 500mm to 600mm.
Comfort
With a curved padded backrest, you will able to sit in comfort before you set off on your next adventure.
Safety
Now if you're a bit of a speed deamon, then don't panic, this Rollator has lockable brakes for convenience and extra security. Now if that's not enough security for you, the tension of the brakes can also be adjusted to suit individual needs. Obviously you would want to follow the instructions correctly when adjusting the tension. 
Rollator with Storage
When you're out socializing or moving around at home we know that you need to keep your hands free to steer. Under the seat, you will find a bag where you can store items.
When you're not using the chair you simply pull the strap found on the seat to fold it up. Making it easy to transport in a car, taxi, or to store at home. The maximum user weight for the Rollator is 158kg.  It's extremely easy to assemble, no tools required. 
Warranty
We know that you might be worried about what happens if I don't like the Rollator when it turns up. We have a 30-day returns policy, so if you don't like it then let us know. This Rollator by Day's Healthcare also comes with a 3-year warranty (excludes general wear and tear) for extra peace of mind. You can also purchase spare parts to replace wearable parts if required. 
We also know online shopping can be scary and you might not trust the process, but rest assured we have a very secure website. See that little lock in the address bar, that's proof that you're visiting a secure website!  If you are worried about completing the purchase online then just call us on 1300 410 702 and we can process your order over the phone – easy peasy! 
Four Wheeled Rollator Specifications:
Max User Weight is up to 158kg;
Seat Height ranges between 500mm – 600mm;
Overall Height range is 785mm -1000mm;
Seat Width is 485mm;
Overall Width is 685mm;
Seat Depth is 305mm;
Overall Depth ranges between 680mm – 800mm;
Wheels are 7.5-inch;
Tyres are TPU and Black; also
Net Weight of the frame is 7.7kg
Order Your Rollator Today & Regain Your Independence Tomorrow!
We Stand by Our Products
Easy Customer Service
---
Call our friendly Customer Service team on 1300 410 702.
Fast Delivery
---
Your order will be shipped from our Sydney warehouse and delivered with lightening speed!
No Fuss Returns
---
Don't like it?  Send it back!  Basic T&C's apply.
100% Secure Payment Options
---
Pay using PayPal, MasterCard, Visa or by phone.
TRUSTED AND RAVED ABOUT BY 1000'S OF OUR CUSTOMERS...
You'll love it too...