Tennis Elbow Support Universal Size
Tennis Elbow Support by Oppo Medical is for every Person who has Tennis Elbow and needs to get rid of elbow pain but can't find the right product.
Here's a huge problem you face right now. It's cheap products that break easily and don't hold up when playing sport or when doing other activities like gardening. But that's not the end of your problems when it comes to relieving Tennis Elbow pain.
What makes this even worse is the fact that without the right tools and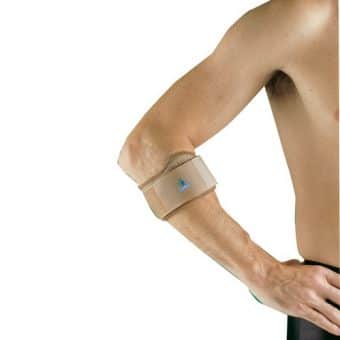 knowledge, you'll just keep suffering from elbow pain! Which means your daily activities like sport, driving and gardening will continue to become even more painful.
Worst of all, many people with Golfers Elbow pain think that all elbow supports will only aggravate the pain further.
All this can make trying to help relieve elbow pain a nightmare! But luckily for you, there's now a solution!
So, if you're a Person with Tennis Elbow or Golfers Elbow and who really needs to get rid of elbow pain but can't find the right produ
ct….. The "Tennis Elbow Support by Oppo Medical" is the answer you've been looking for!
EFFECTIVE!

Tennis Elbow Support applies pressure to the muscle distributing the pain away from the elbow joint. A circular pad provides pressure on the muscle in the arm, relieving pain from strained muscle. … faster and easier than ever before

GETS THE JOB DONE!

Protects and supports injured forearm during the healing process. Provides warmth to the muscle helping to reduce pain immediately allowing you to return to sport or work – Fast

FUNCTIONAL!

Lightweight and made from a breathable neoprene allows you to continue leading a healthy lifestyle without the support interfering with your daily activities…. Faster and easier than ever before

EXTREMELY EASY TO USE!

Universal Size allowing it to be worn on either the left or right side. A Velcro strap makes it easier to adjust the size and provide greater tension if needed – in one easy step

P

RACTICAL!

Neutral colour allows you to discreetly wear the Elbow Support under a shirt or without drawing attention to it like the best people with Tennis or Golfers Elbow pain do.
Remember you should always obtain advice from your Medical Practitioner before using any brace or support….. To ensure that you are purchasing the correct support and using it correctly.